Operation Christmas Child
The mission of Operation Christmas Child is to provide God's love in a tangible way to children in need around the world, and together with the local church worldwide, to share the Good News of Jesus Christ.
For several years, Concord has partnered with Samaritan's Purse to pack Operation Christmas Child (OCC) boxes to send around the world!
Since 1993, more than 178 million children in more than 150 countries have received an Operation Christmas Child shoebox. The project delivers not only the joy of what, for many kids, is their first gift ever, but also gives them a tangible expression of God's love.
OCC is an important ministry at Concord!  We love gathering, and packing, shoeboxes!  If you would like to help in this vital ministry, please reach out to us through our contact page!
We love to purchase items year-round for our boxes!  If you would like to know what should be purchased each month, please visit:  https://www.samaritanspurse.org/operation-christmas-child/year-round-packing-ideas/ (we have also reproduced the suggestions below).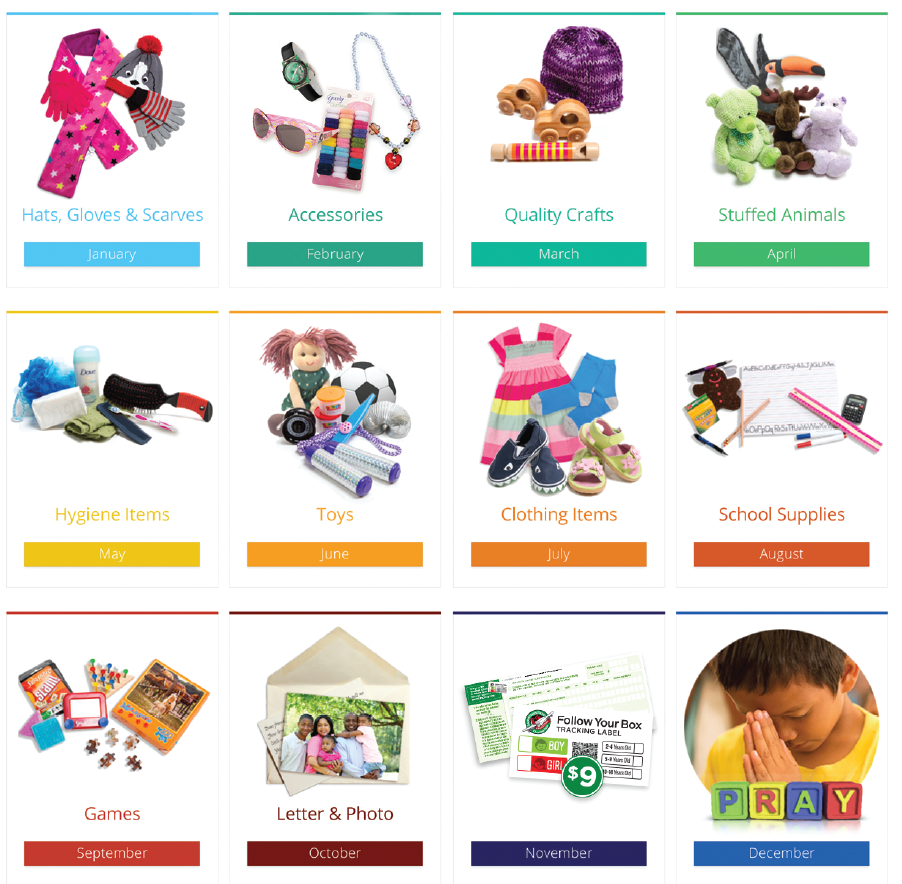 2021 Gift Distribution
This year, our OCC gifts all went to Belize to support Brandi and Junior McIntosh.  Please watch the distribution video below!
Packing Party 2020
2020 was certainly an unusual year!  Sadly, we were not able to join the church together for a traditional packing party.  We asked our members to come to the church separately and pack boxes as they could.  We were able to get all 100 boxes packed!  Below are some pictures of our "family packing party."  Click on each picture to make it larger and cycle through the pictures!  We will continue to add more photos as we receive them.