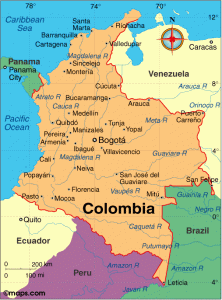 Colombia
(you may click each picture below to enlarge it)
Colombia, officially the Republic of Colombia, is a transcontinental country largely in the north of South America, with territories in North America.
With over 50 million inhabitants Colombia is one of the most ethnically and linguistically diverse countries in the world, with its rich cultural heritage reflecting influences by various Amerindian civilizations, European settlement, and forced African labor.
Colombia has been inhabited by various indigenous peoples since before the time of Christ, including the Muisca, Quimbaya, and the Tairona. The Spanish landed first in La Guajira in 1499 and by the mid-16th century annexed part of the region, establishing the New Kingdom of Granada, with Santafé de Bogotá as its capital. Independence from Spain was achieved in 1810, with what is now Colombia emerging as the United Provinces of New Granada. The new nation experimented with federalism as the Granadine Confederation (1858), and then the United States of Colombia (1863), before the Republic of Colombia was finally declared in 1886. Panama seceded in 1903, leading to Colombia's present borders.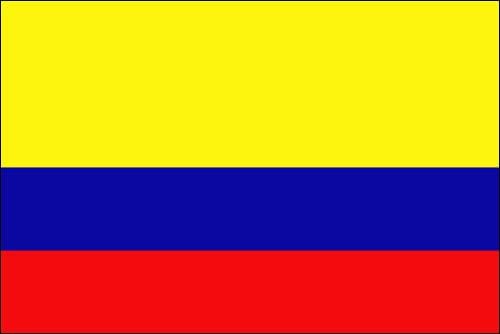 Colombia is one of the world's 17 megadiverse countries and has the second-highest level of biodiversity in the world. Its territory encompasses Amazon rainforest, highlands, grasslands, and deserts, and it is the only country in South America with coastlines and islands along both the Atlantic and Pacific.
A total of 101 languages are spoken in Columbia!
The Chami of Colombia are Engaged yet Unreached. They are part of the South American Indigenous people cluster within the Latin-Caribbean Americans affinity bloc. This people group is only found in Colombia. Their primary language is Emberá-Chamí. The primary religion practiced by the Chami is ethnoreligion. Ethnoreligion is deeply rooted in a people's ethnic identity and conversion essentially equates to cultural assimilation. The Chami are noted for their "Chaquira" beaded jewelry, which both men and women wear during ceremonies and in daily life.  More information about the Chami can be found here: https://peoplegroups.org/explore/GroupDetails.aspx?peid=16229#topmenu
We are following God's path that we feel called to walk and as we update you on our "walk" it might seem a little chaotic at times!
Courtney and Mark Robertson have been called on mission to Pereira, Colombia to take the Word to the Chami people located there! They are very excited to step out into this calling.
They have completed IMB FPO (Field Personnel Orientation) in Virginia.  In April, they will travel to Puebla,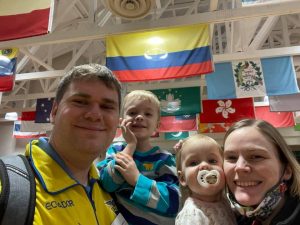 Mexico for about a year of language learning at a Spanish school located there. After they finish language training, they will be on the mission field in Pereira, Colombia.
They ask that we would pray for God to prepare their hearts and minds (and their children) for the training they will receive.  Also, pray for their families and our home church that are preparing for their transition to leave.  Pray also for the Chami people, that God would prepare their hearts to receive the Gospel.
Mark recently spoke at Concord about their ministry to the Chami, and how we can partner with them in sharing the Gospel with those who have never heard.  His message can be found on our sermon page: https://www.concordbc.org/sermons/march-28-2021-evening-worship-mark-robertson-missionary-to-the-chami-people-group/
The Robertson family has prepared a Lottie Moon Christmas offering video!
If you'd like to follow their social media updates you can follow them on (their Instagram feed is a private group).  You can also sign up to receive their newsletter by visiting their web page.
Website:  https://www.commissionalcafe.com/
Newsletter: https://mailchi.mp/5db4ec7eb3c9/newsletter-update-61321?e=aec5b31bcf
Facebook: https://www.facebook.com/groups/commissionalcafe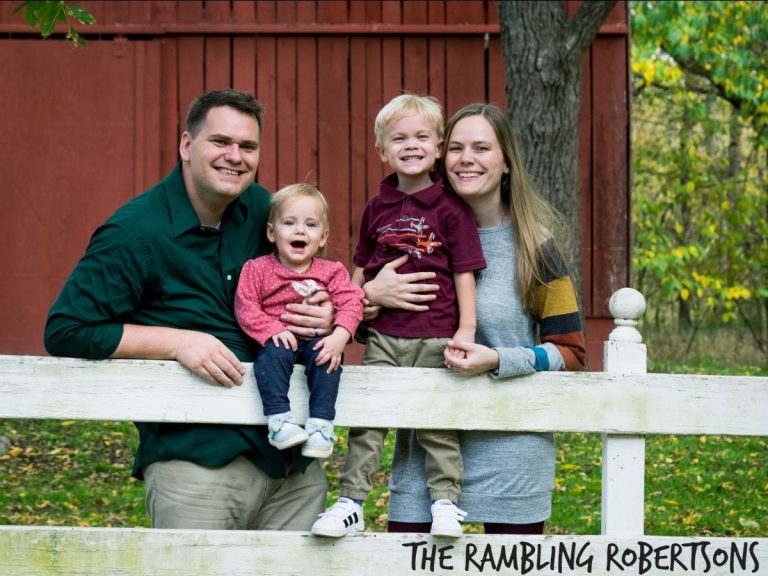 Instagram: https://www.instagram.com/commissionalcafe/
Twitter: https://twitter.com/commissionalcaf
Concord is partnering with the Robertson family to pray for them and provide other support as they carry the Gospel to this unreached people group.  Please pray for this family!