Christmas Eve
Christmas has finally arrived!  While our children our dreaming of finding presents under the tree tomorrow morning, our hearts turn to the greatest gift ever: Jesus Christ!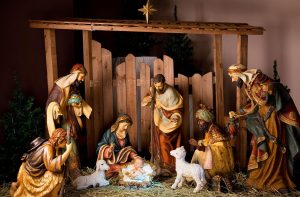 To be sure, this has been a very unusual year!  As December 31st approaches, many of us can't wait for this year to be over!  But, on this Christmas Eve, let's not rush past the most important part of this year: the celebration of the birth of our Savior, Jesus Christ!  Let's pause this night and let God's Word speak to us afresh.  Let's put ourselves into the place of Mary, or Joseph, or the shepherds, or the wise men and experience His birth as if we were one of them on that wonderful, terrifying (for them) night!
A wicked king who decided murdering "inconvenient" babies was the solution to his political problem could not stop His birth. A corrupt, leader-centric, apathetic "church" (the religious leaders) could not stop His birth.  No human could silence His message, nor hinder the salvation He came to bring.  Their futile attempts to hold on to their human-centered power failed.  Were it not for Jesus' birth that night, none of them would be remembered today.  Their lives, like ours, are defined in terms of their respone to Jesus.
Political and religious leaders come and go.  However, the King of Kings and Lord of Lords is eternal.  He is the same yesterday, today, and forever (Hebrews 13:8)!  This year, let's focus on Him and how He wants to use us to spread good news of great joy to every tribe and tongue!  Tonight we celebrate that good news . . . we feel Him flood our souls with His great joy!
Angie, Adam, and I wish all of you the merriest of Christmases!  Our prayer is that your heart has been filled to overflowing with the love of Jesus, our Savior!  We pray that He continues to use you in amazing ways in the upcoming year.
If you don't know Jesus as your Savior, if you have not received Him as your personal Lord and Savior, please use our contact page to reach out to our pastor.  He would love to talk to you about Jesus!
Merry Christmas, may we allow His peace to reign on earth, and may we embrace and live His good news of great joy!
If it is not a tradition in your family, I would like to encourage you to read the Christmas account from Luke's Gospel (Luke 2:1-39).  I have printed it below and here is a link to be taken to an online version of the account:  Luke 2:1-39
Jesus' Birth in Bethlehem
  2:1 Now in those days a decree went out from Caesar Augustus, that a census be taken of all the inhabited earth. 2 This was the first census taken while Quirinius was governor of Syria. 3 And everyone was on his way to register for the census, each to his own city. 4 Joseph also went up from Galilee, from the city of Nazareth, to Judea, to the city of David which is called Bethlehem, because he was of the house and family of David, 5 in order to register along with Mary, who was engaged to him, and was with child. 6 While they were there, the days were completed for her to give birth. 7 And she gave birth to her firstborn son; and she wrapped Him in cloths, and laid Him in a manger, because there was no room for them in the inn.
8 In the same region there were some shepherds staying out in the fields and keeping watch over their flock by night. 9 And an angel of the Lord suddenly stood before them, and the glory of the Lord shone around them; and they were terribly frightened. 10 But the angel said to them, "Do not be afraid; for behold, I bring you good news of great joy which will be for all the people; 11 for today in the city of David there has been born for you a Savior, who is Christ the Lord. 12 This will be a sign for you: you will find a baby wrapped in cloths and lying in a manger." 13 And suddenly there appeared with the angel a multitude of the heavenly host praising God and saying,
14 "Glory to God in the highest,
And on earth peace among men with whom He is pleased."
    15 When the angels had gone away from them into heaven, the shepherds began saying to one another, "Let us go straight to Bethlehem then, and see this thing that has happened which the Lord has made known to us." 16 So they came in a hurry and found their way to Mary and Joseph, and the baby as He lay in the manger. 17 When they had seen this, they made known the statement which had been told them about this Child. 18 And all who heard it wondered at the things which were told them by the shepherds. 19 But Mary treasured all these things, pondering them in her heart. 20 The shepherds went back, glorifying and praising God for all that they had heard and seen, just as had been told them.
Jesus Presented at the Temple
    21 And when eight days had passed, before His circumcision, His name was then called Jesus, the name given by the angel before He was conceived in the womb.
22 And when the days for their purification according to the law of Moses were completed, they brought Him up to Jerusalem to present Him to the Lord 23 (as it is written in the Law of the Lord, "EVERY firstborn MALE THAT OPENS THE WOMB SHALL BE CALLED HOLY TO THE LORD"), 24 and to offer a sacrifice according to what was said in the Law of the Lord, "A PAIR OF TURTLEDOVES OR TWO YOUNG PIGEONS."
25 And there was a man in Jerusalem whose name was Simeon; and this man was righteous and devout, looking for the consolation of Israel; and the Holy Spirit was upon him. 26 And it had been revealed to him by the Holy Spirit that he would not see death before he had seen the Lord's Christ. 27 And he came in the Spirit into the temple; and when the parents brought in the child Jesus, to carry out for Him the custom of the Law, 28 then he took Him into his arms, and blessed God, and said,
29 "Now Lord, You are releasing Your bond-servant to depart in peace,
According to Your word;
30 For my eyes have seen Your salvation,
31 Which You have prepared in the presence of all peoples,
32 A LIGHT OF REVELATION TO THE GENTILES,
And the glory of Your people Israel."
    33 And His father and mother were amazed at the things which were being said about Him. 34 And Simeon blessed them and said to Mary His mother, "Behold, this Child is appointed for the fall and rise of many in Israel, and for a sign to be opposed-- 35 and a sword will pierce even your own soul--to the end that thoughts from many hearts may be revealed."
36 And there was a prophetess, Anna the daughter of Phanuel, of the tribe of Asher. She was advanced in years and had lived with her husband seven years after her marriage, 37 and then as a widow to the age of eighty-four. She never left the temple, serving night and day with fastings and prayers. 38 At that very moment she came up and began giving thanks to God, and continued to speak of Him to all those who were looking for the redemption of Jerusalem.

Return to Nazareth
    39 When they had performed everything according to the Law of the Lord, they returned to Galilee, to their own city of Nazareth.